Handmade Soy Candles Bringing Peace, Light & Joy Into Your Space
Hand poured in Melbourne with love and care, using 100% natural eco soy wax.
What Our Customers Have To Say
Favourite stall at the market!! Love the fun and friendly service, and the candles are seriously the most delightful ever.Japanese Honeysuckle is my number one fave, but I'm enjoying the heck out of Avocado & Mint right now.
🌟⭐🌟⭐🌟

Melissa C., Mintstone candles customer
Absolutely incredible smelling candles. Basil and cucumber is my absolute favourite. Outstanding customer service as well! Cannot recommend enough!

Gabriella C., Mintstone candles customer
Literally the best smelling candles I have came across, super worth for the burn time as well!

Jessica T., Mintstone candles customer
Mintstone candles is honestly the best in the business! Everything is made to perfection - the candles, diffusers, packaging and the presentation, which make them amazing as gifts to your loved ones.
I'm in love with and would highly recommend the avocado & mint, and watermelon scents for those who prefer sweets 🥑🍉
I make it a priority to always pop by the stall at Queen Victoria market to stay up to date with their latest scents 😁 Also, customer service 💯

Meelan L., Mintstone candles customer
Amazing range of homemade soy candles. Absolutely loved every single scent but my most favourite is the lotus flower 💛. Also don't forget to try the lavender and cucumber one, it smells so fresh.

Preeti B., Mintstone candles customer
Your products are unbelievable, the aroma are amazing. Thank you I have referred your products to many friends and family, you attention to detail is next to none.

Anna P., Mintstone candles customer
If you're ever in Melbourne, these are the best scents! you can legit smell it through the whole house and they burn so well. So impressed (with Basil & Cucumber) and everyone that smells it thinks the same!

Becca M., Mintstone candles customer
The Japanese Honeysuckle candle is the BOMB!! I absolutely love it. Can't get enough of it! 

Rita M., Mintstone candles customer
Gorgeous scents, beautiful jars, and the service is so bright, bubbly and friendly.
I live in WA and will happily continue to purchase from here to support this lovely small VIC business.

Chelsea S., Mintstone candles customer
Why Soy Wax?
Soy wax is a natural, better option for your health and the environment!
It is a hydrogenated form of soybean oil, 100% natural, renewable, biodegradable, and non-toxic, delivering a clean burn experience.
 Not only that - It lasts longer!
Soy wax is a softer wax that has a lower melting point, resulting in longer burn time.
All good things start with "C". Candle, coffee, chocolate ... and more CANDLES!!
Wood Wick Care Tips:
Tilt the jar on an angle to first light your wood wick candle, this will allow the flame to slowly reach across the wick.
Wood wicks can take a couple attempts when igniting for the first time, but once lit, it should burn beautifully! Remember to give your candle enough time (2 to 4 hours) every time you use the candle for it to burn evenly.
As long as you like the way it is burning, you don't need to trim the wood wick.
If the wick doesn't stay lit, GENTLY (as gently as possible!) remove any burnt ash off the top of the wood wick before relighting by using your fingers without shortening the wick length.
If your wick has gotten too short, burn the candle for sometime, allowing the top layer to burn evenly. TURN OFF the candle. Use a tissue paper, and let it absorb a bit of wax. This will give the extra length to the wick.
Cotton Wick Care Tips:
#1 - THE FIRST BURN IS IMPORTANT! When you light your candle for the first time, we recommend burning until a full melt pull has been reached. This will prevent tunnelling and increase the burn time of your candle.
Soy wax is considered a memory wax, and will only burn to the point of the initial burn.
#2 - TRIM WICK to 5mm before each burn to promote an even burn, steady flame and limit mushrooming of wick. A wick that is not trimmed may create burning issues.
#3 - Wipe the top edge of your candle container as you go for a clean presentation.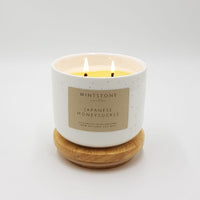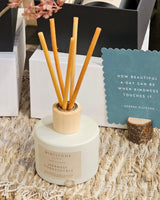 Let's boost your mood!
Diffuser Care Tips:
#1 - Refresh your diffuser by flipping the reeds from time to time for a better scent-throw.
#2 - After 4 to 5 months (or when preferred) replace the reed sticks.
Usage Instructions:
#1 - Uncap and carefully remove the bottle stopper. Put the cap back on for a nice presentation
#2 - Insert 5 reed sticks into the diffuser bottle (keep the other 5 for replacement at a later time)
Our Guarantee