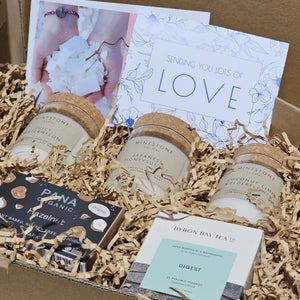 Whole Lotta Love Gift Package includes:
3 Small Soy Candle (Pick a scent, we will thoughtfully complete a set of three!)
Byron Bay Organic Tea
PANA Organic Cacao bar
Greeting Card
IMPORTANT NOTES: If you wish us to print your message on the greeting card, please follow the next steps:
1. At 'Your Cart' page, click 'THIS IS A GIFT' button next to the 'CHECK OUT' button.
2. Write your lovely message that will go on the greeting card with the gift. If you prefer to handwrite your own, leave this blank - we will then send you a blank card.
3. Click the 'Add' button and continue.